Hand Rolled on 29th Street
"Hand Rolled On 29th St." is a playful, light-hearted look into a handmade cigar store in New York's Chelsea district. Every few minutes a cigar is created by a group of "Tabaqueros" – a group of Dominican men and women – in their storefront shop. In this short humorous film, they show the art and skill of selecting tobacco leaves, rolling them at high speed and pressing them into shape, all set to a fast-paced meringue.
Zoie International Festival 2000, 3rd prize in documentary section.
New Haven Film Festival 2000, 1st in Audience Choice Award for documentary work
Philadelphia International Festival 2000, Festival sceening.
Rochester NY Film Festival 2000-Movies on a Shoestring Trophy Award.
Hot Springs International Documentary Festival 2000.
Rutgers Film Festival 2001 Honorable Mention
Channel 13 Metro Arts New York City TV
NYExpo Film Festival Jury Award
International Festival of Cinema and Technology
Screening in London, England, L.A. California and Toronto 2002-3
Nominated for the following award on the IFCT 2002-2003 World Tour: "The IFCT Best Short Documentary Award"
Algonquin Indifest 2003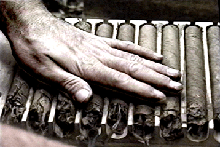 Hand Rolled on 29th Street