Creating the Stradivarius of Organs
A remarkable collaboration between dozens of artists and artisans on two continents resulted in the first tracker organ installed in New York City since the 19th century. Standing over 45 feet high and weighing more than 30 tons, this 5000 pipe instrument was built upon the same principles as the oldest organs of Europe.
In an age when electric-action organs are routinely mass produced, the painstaking and highly labor-intensive creation of a vast mechanical organ was a historic event. Like grand ocean liners in the jet age, this instrument is an anachronism that offers its own eloquent justification for being.
"Creating The Stradivarius of Organs" is a behind-the-scenes look at this remarkable musical work of art, installed at St. Ignatius Loyola on Park Avenue in Manhattan.
Featuring interviews with organ builder John Mander and renowned organist Kent Tritle, the film includes rare footage, drawings and photographs of the organ during its building in London and subsequent arrival and installation in NYC.
Also included are interviews with Michael Barone, Nancianne Parrella, Renee Louprette and David Higgs the organist at the inaugural concert, and audio segments of his historic performance.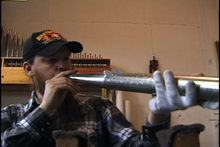 Creating the Stradivarius of Organs